Commissioning a piece of jewellery
Commissions are a wonderful way to have something special made that you will treasure forever. It is an involved process, which relies on good communication and it can take up to 12 weeks to design, approve and create you something bespoke. Commissions start at around £250 in silver and £350 in gold, but obviously this can vary hugely depending on the design.
Please note we are currently looking to book commissions with a delivery date of summer 2023. 
Emma takes on commission work that sits within the style of her own designs. If you are interested in commissioning something from, please email us at info@thejewellerymakers.co.uk or contact us HERE. Please let us know your deadline and an idea of what you have in mind and then we will send you some details about our commissioning process and we go from there.
Bespoke Asymmetric Opal Necklace - 2018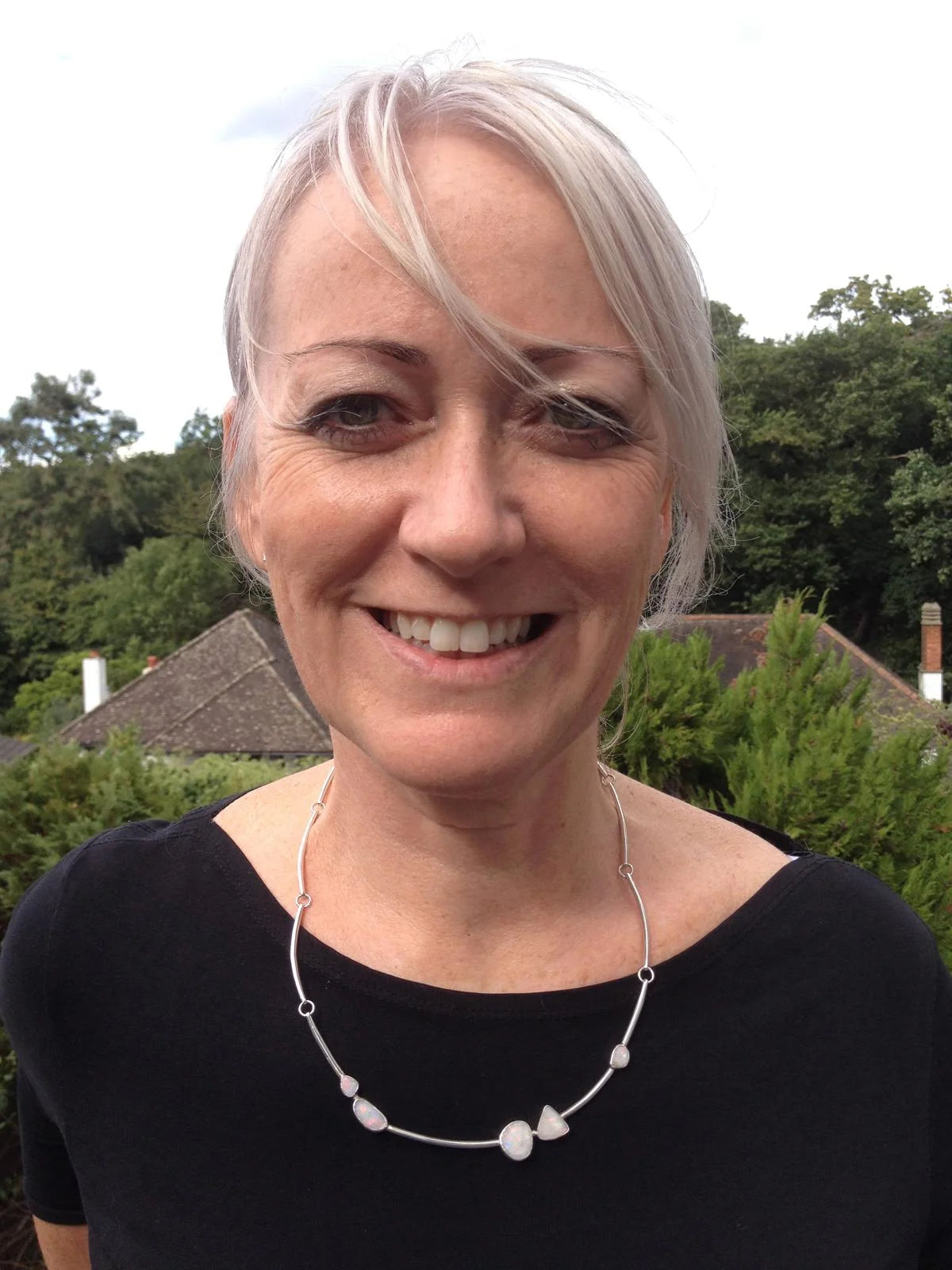 The Story
An opal and silver necklace made for Jane. Her lovely partner, Andrew, bought these opals in a mine 30 years before asking me to make them into a necklace for Jane.
It was a challenging job because the opals were fractured in places (as opals can be) and after a little research I realised I'd have to seal them with resin, which I'd never done before. However it worked out really well as the resin not only sealed the opals but also enhanced their stunning colours.

Jane was, as you can see, very happy with the end result.

"Thank you for the beautiful necklace, Jane was thrilled with it and I am in the good books, big time! It's been a pleasure working with you, best wishes, Andrew."
Waterfall Birthstone Drop Earrings - 2022
The Story
hese statement earrings were made for Tamsyn, a gift from her husband Darren to celebrate the birth of their twin daughters. Each stone represents a member of the family, An aquamarine, a peridot and two opals, representing the twin babies!

The twisted and hammered drops fall from the stud fitting catching light and sparkling with every movement, I also made a custom back to keep the earrings sitting perfectly on Tamsyn's ears.

"Hi Emma, Tamsyn absolutely loved the earrings. She was overwhelmed by them in fact. You did an amazing job. Thanks so much, Darren."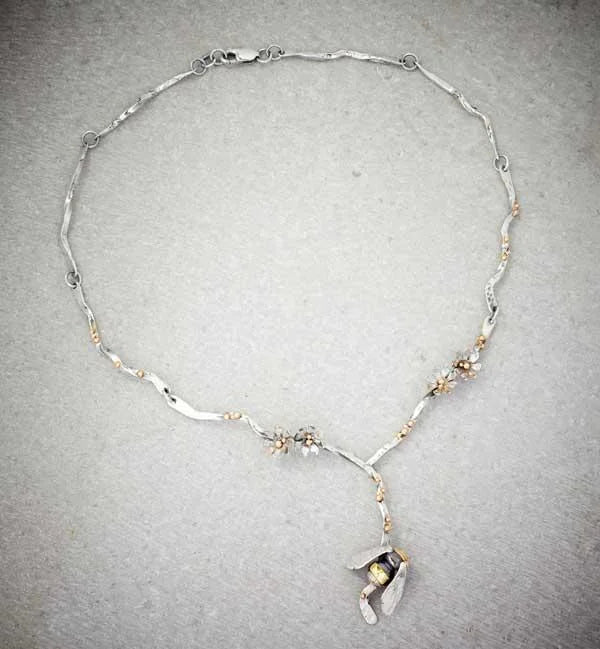 The Story
This necklace and earring set was commissioned as a retirement present by Patrick for his wife, Alison. Alison is a bee fan, and also the chairwoman of the local bee keeping society.

I made the bee in silver and 18ct yellow gold, sculpting in molten metal and then working on the top to add definition and detail, the necklace was created with silver twisty links, formed to look like the wood of a tree branch. The flowers were centred with 18ct granules of pollen, which also dotted around the rest of the necklace and the earrings.
The bee was finished with some oxidation to create the black and gold of the bumble bee. I studied bee species and worked up lots of drawings, because it was important to Patrick that the bee be a true representation of one of our native species.
The Birthstone Russian Ring Necklace - 2019
The Story

A gift for Sarah, from her sister and parents for her 40th birthday. Sarah is a busy mum of 3 and her family wanted to buy her something she would wear everyday that would fit with her busy lifestyle.

This silver necklace has a diamond set into a simple tube set which dangles in the centre of the gap, so that there is lots of movement and each ring moves independently of the others while still holding it's overall shape.

Sarah cried when she opened her gift, with happy tears and wears her necklace everyday!
The Diamond Ring Remodel - 2018.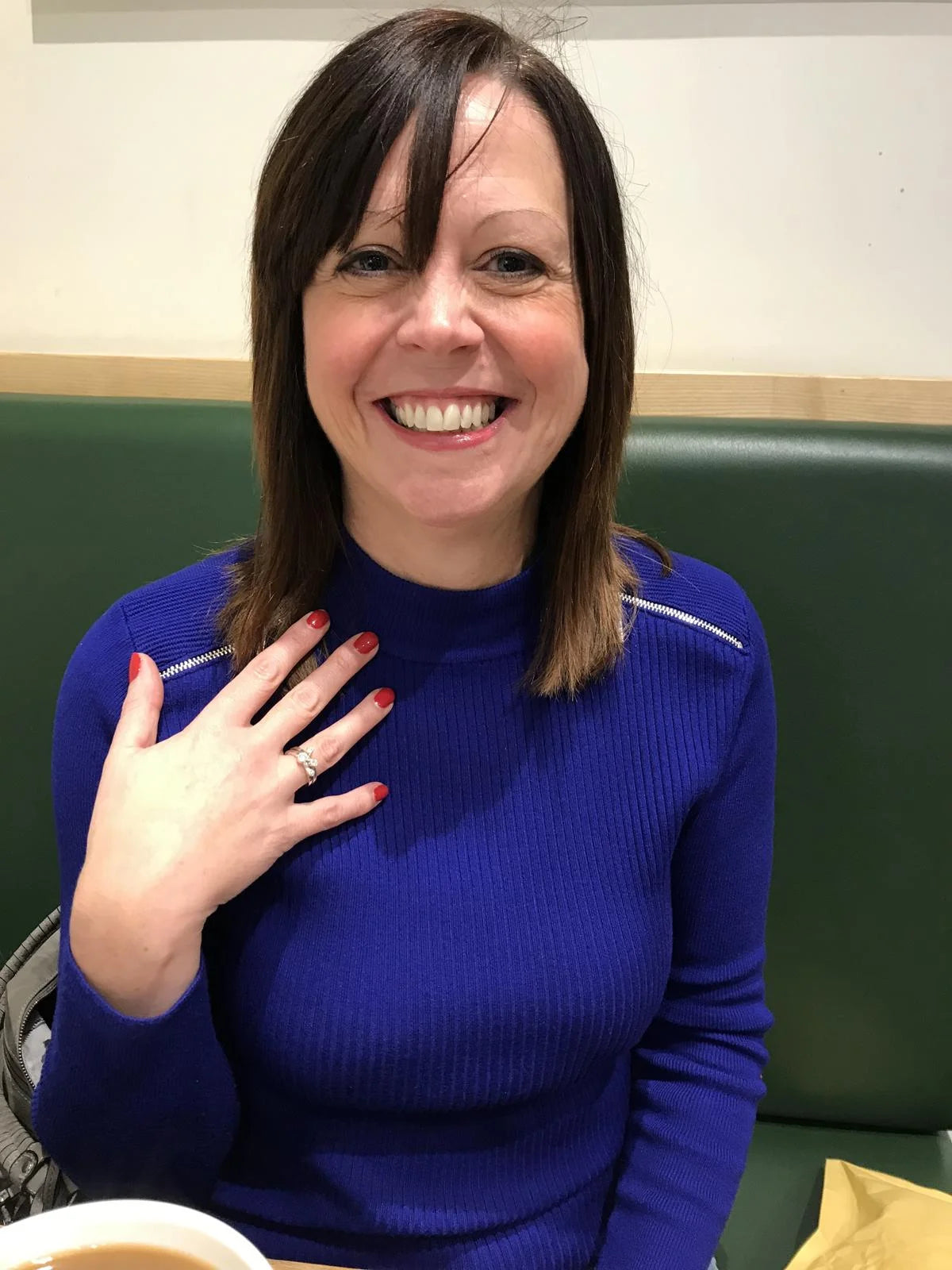 The Story
Clare wanted a remodel after her divorce, she remodelled her life and her wedding and engagement rings and they all faced a happier future together! Look at that smile.

I removed all the diamonds from her rings and then created two different rings that fitted perfectly together with a click.

When I handed them over, we both cried. It was an emotional one.

"Thank you! My rings are absolutely beautiful, I love wearing them"
Star Stone Necklace for Lucy - 2020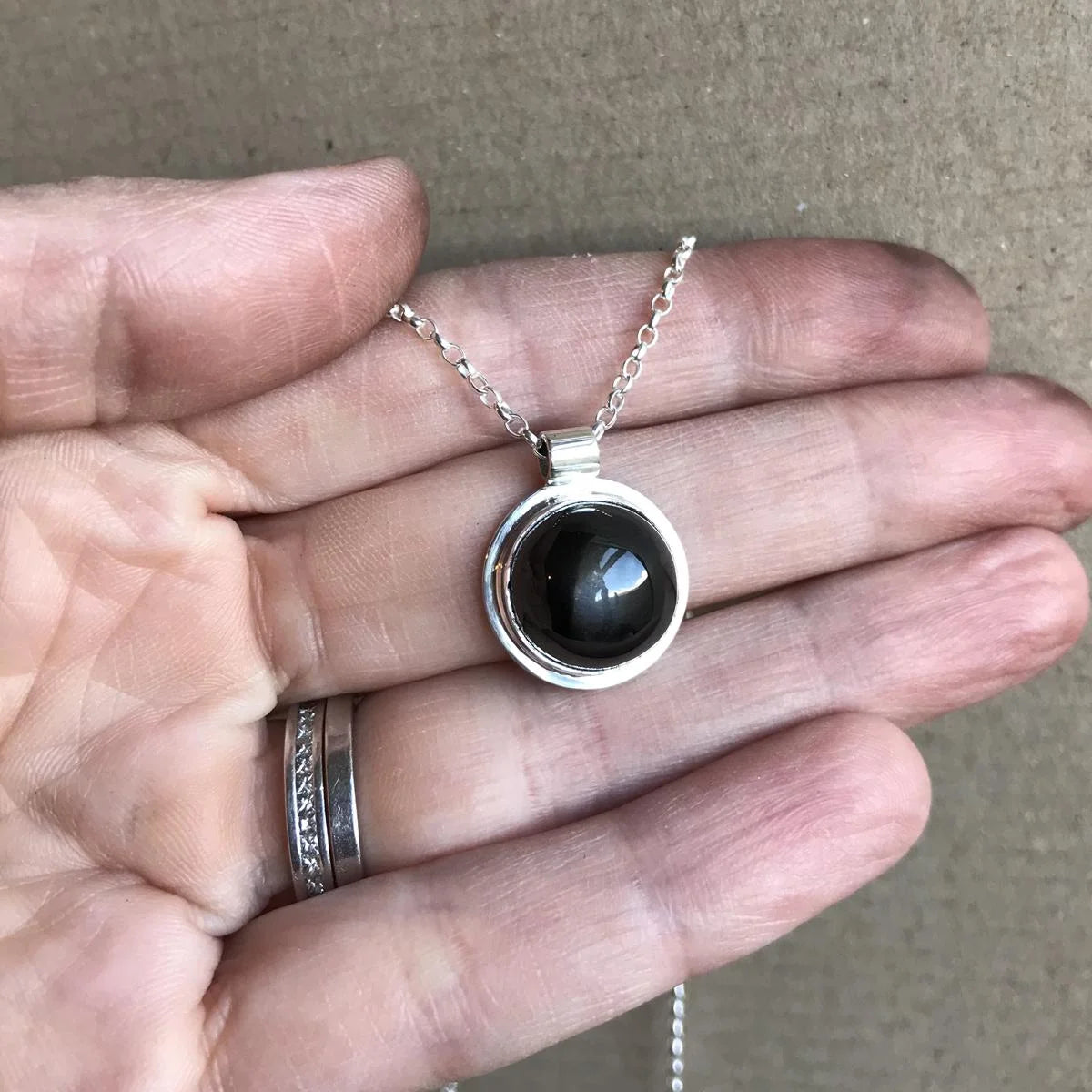 The Story
Lucy came to me to to ask if I could make a simple silver setting for a beautiful stone that she had brought home from her travels many years before.

I designed something striking but sleek that would let the simplicity of the stone shine through. We were both pleased with the end result.

"Emma, I love my pendant, it's stylish and beautiful! Thank you!"
GET IN TOUCH
Shaped wedding bands for Tracy - 2011
The Story

Here I made not one, but two matching bands in 18ct white gold that swept round Tracy's engagement ring (I didn't make the engagement ring) Then I set some accent diamonds into the bands.

Tracy is one of my closest friends and someone I've known since Primary School, so this commission was a little scary but such an honour to be asked and I even got to see the lucky couple get married! 
Long Reticulated Statement Necklace for Jules - 2021
The Story

This one was a birthday gift for Julia, a 40th gift from her other half. Julia is a mum of twins girls and a older son, the stones were to represent the children, I used their birthstones hung from a dramatic and chunky piece of reticulated silver on a long chain to be worn long or layered with other necklaces.
This was one that just worked. I wanted to keep it! Thankfully it was very much appreciated and after the birthday, Julia commissioned me to make her a pair of matching earrings, so I guess she must have liked her necklace very much!
The Ribbon of Life Ring for Paula and Colin - 2023
18ct gold, sapphire and diamond ring.

The Story

Colin approached me to make a really special gift for him wife Paula, for their wedding anniversary. They wanted a version of the 'Ribbon of Life Ring', with my signature twisted ribbon and the gold granules, which represent the journey of married life, with it's twists and turns and highs and lows.

This one was particularly special, with a stunning sapphire at it's centre and two diamonds set into the granules to represent the couple's sons.

I engraved stars into the setting of the sapphire and also stamped a personal message into the inside of the ring, making this thoughtful gift perfect for the lovely couple.
The Story

Cheryl had this beautiful gemstone in a drawer for 20 odd years, just waiting for the right moments to have it made into a stunning piece of jewellery. This was formed in 18ct gold and simply set to showcase the beautiful citrine.